Your Guide to Wedding Gown Silhouette
If there's one thing a bride-to-be thinks about more than her future wedding, it's her dream dress. The wedding dress industry is a big one that is filled with fancy terminology and styles of dresses that can get overwhelming for many brides. Going into a wedding dress boutique with a little bit of knowledge and an idea of your dream dress can really help ease the stress and narrow down your options – because there are many options to choose from!
We are here to help you understand the terminology, even just the basic gist of it all, so when you go to your appointment, you can feel stress-free and confident that you'll find your perfect gown to fit your vision and body.
A-Line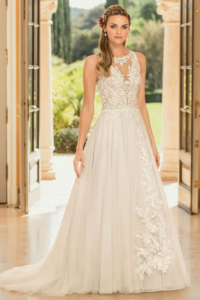 This is one of the most popular styles of dresses, as it is complimentary on any body type. It's a romantic and flattering silhouette that shows off one's natural waist, but flows over the hips ever-so softly to give the A-shape that it is named after. It doesn't have the volume that a ball gown dress gives off, which is perfect for the bride who wants to live a more toned-down fairytale moment.
Slip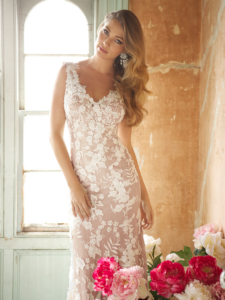 Minimalism is in style – and so is the slip dress. This style of wedding gown is perfect for those brides who wish to embody a simpler style down the aisle. The slip dress is not structured like many other gowns, which creates a sophisticated and timeless look. It can be as simple as the entire dress being silk or satin, or add lace for a more-visual look.
Mermaid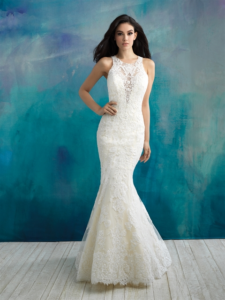 The mermaid gown is a classic silhouette that hugs your body from your chest to your knees where it then flares out, giving the illusion of a mermaid tail. It is perfect for the bride who wants to show off their curves in an elegant way, and the flare at the end adds a bit of fun. Choose tulle for a fuller-flare, or satin and silk for a toned-down mermaid look.
Ball Gown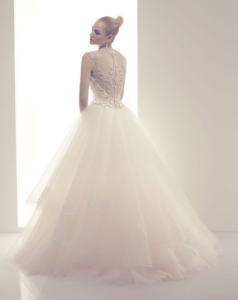 A ball gown silhouette is the picture-perfect "princess dress" that one might think about when they think of a wedding gown. They are fitted to your waist, and flare out dramatically with tons of volume that will have you wanting to go to Cinderella's ball. These dresses are excellent for twirls and will make you look like you are gliding down the aisle and across the dance floor.
Empire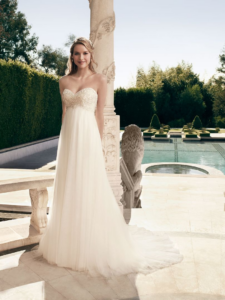 The empire waist is the perfect dress for those who don't want a lot of structure and are leaning towards more of a flowy gown for their big day. An empire silhouette is fitted throughout the chest only, then flows down the rest of the body. It is very flattering for many body types, elongates the body to make one look taller, and it's another perfect twirling number for the dance floor. 
Non-traditional Wear
Nowadays, many people are starting to look for more unique attire that suits their style more than the traditional dresses mentioned above. Perhaps you are looking for a casual outfit to wear to the courthouse, or your small garden party wedding has you envisioning a shorter gown. There are many options and styles to choose from that include:
Tea-length

Jumpsuits

Separates

Mini

Midi
Whatever style gown that you choose, the most important thing is that it makes you feel happy and fits your vision. Many brides go into a boutique thinking they know exactly what they want, but end up choosing something completely different. That is why it's so important to try on dresses to get a feel for all the silhouettes and also keep your options open so that you can easily say "Yes!" to the dress.
Allow Maison Chic Bridal & Special Occasion to help you pick out the dress of your dreams! With our wide array of styles, our bridal shop in Victoria, Texas and our helpful consultants, we will have you in your perfect gown, stress-free and ready to say "Yes!" in no time at all. Now serving Hallettsville, Gonzales, Shiner, Nixon, Kenedy, Yorktown, and Yoakum.